Whack the crate to get some Power, then use your Power to multiply the contents of a bush. Speak to the Castle Steward when you're finished.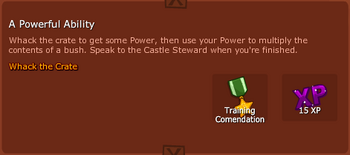 Zone Received In: Haven Castle Training Room
Previous Quest: Get Ready... Get Set... Whack!
Stage 1: Whack the Crate
Stage 2: Whack the Bush using Power
Stage 3: Talk to the Castle Steward
Reward/s: Training Comendation, 15xp (!)
Next Quest: The Call of the Wild
Ad blocker interference detected!
Wikia is a free-to-use site that makes money from advertising. We have a modified experience for viewers using ad blockers

Wikia is not accessible if you've made further modifications. Remove the custom ad blocker rule(s) and the page will load as expected.