Find all the decorations for the Christmas Tree! Decorations can be found rarely in bushes during the Christmas event. Find all the items before the event ends to get a special decorated Christmas Tree for your house.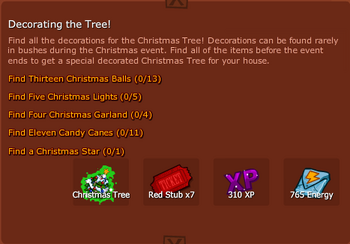 Previous Quest:
Fix the Teleporter!
Stage 1: Find Thirteen Christmas Balls (0/13)
Find Five Christmas Lights (0/5)
Find Four Christmas Garland (0/4)
Find Eleven Candy Canes (0/11)
Find a Christmas Star (0/1)
Stage 2: Return to the North Pole
Rewards: Christmas Tree x1, Red Stub x7, 310xp (!), full Energy refill
Questline: Christmas Event
Ad blocker interference detected!
Wikia is a free-to-use site that makes money from advertising. We have a modified experience for viewers using ad blockers

Wikia is not accessible if you've made further modifications. Remove the custom ad blocker rule(s) and the page will load as expected.