Meet the guard at the Graveyard. You may need to unlock some additional zones before you can meet him there. The Graveyard is directly north of the Haunted Village.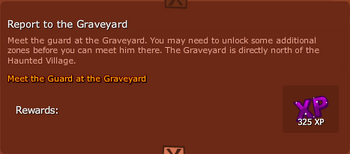 Zone Received In: The Haunted Village
Previous Quest: Scary Berries
Stage 1: Meet the Guard at the Graveyard
Reward: 325xp (!)
Next Quest: Getting Some Exorcise
Ad blocker interference detected!
Wikia is a free-to-use site that makes money from advertising. We have a modified experience for viewers using ad blockers

Wikia is not accessible if you've made further modifications. Remove the custom ad blocker rule(s) and the page will load as expected.