Assist Investigator Kaine in decrypting one of the orders.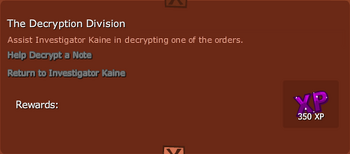 Zone Received In: The Twisted Vineyard
Previous Quest: Evident Evidence
Stage 1: Help Decrypt a Note
Stage 2: Return to Investigator Kaine
Reward: 350xp (!)
Next Quest: A Disturbing Report
Note: This quest begins upon handing in Evident Evidence and will complete simply by clicking through the dialogue. There is no option or possibility to cease speaking with Investigator Kaine until after this quest completes.
Ad blocker interference detected!
Wikia is a free-to-use site that makes money from advertising. We have a modified experience for viewers using ad blockers

Wikia is not accessible if you've made further modifications. Remove the custom ad blocker rule(s) and the page will load as expected.