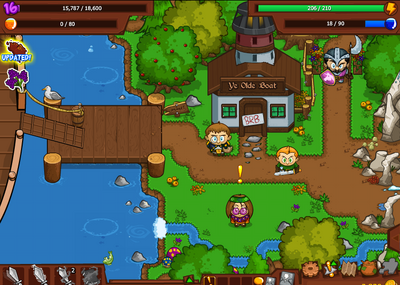 Return to the World Map
Exits:
Down: N/A
Left: The Tribal Village
Right: The Gentle Decline
Exit Unlocks:
Up: Progress to Level 16
Down: N/A
Left: Purchase the Boat Pass (Needs Level 40)
Right: Is already open
Quest/s Starting: She Gets Sea Sick by the Sea Shore, Follow the Trail
Quest/s Progressing: None
Quest/s Completing: The Guru's Girl, She Gets Sea Sick by the Sea Shore, The Harbour Clue
Puzzle Size: N/A
Custom Item/s: N/A
Notable NPC/s: Harbourmaster, Jill (until She Gets Sea Sick by the Sea Shore is completed)
This is also one of the Fishing locations. To fish here you need to buy the Sturdy Fishing Pole from Steve the Fisherman.
All items possible to be fished up here:
Ad blocker interference detected!
Wikia is a free-to-use site that makes money from advertising. We have a modified experience for viewers using ad blockers

Wikia is not accessible if you've made further modifications. Remove the custom ad blocker rule(s) and the page will load as expected.